14th January 2022
THE WHOLE WORLD CELEBRATED THE ORTHODOX NEW YEAR LAST NIGHT WITH GORAN BREGOVIĆ AT THE EXPO 2020 WORLD EXHIBITION IN DUBAI
The famous songs Mesečina, Đurđevdan, Bela Ćao… echoed last night over the panorama of the Expo in Dubai, where Goran Bregović and his Orchestra for Weddings and Funerals held a concert to remember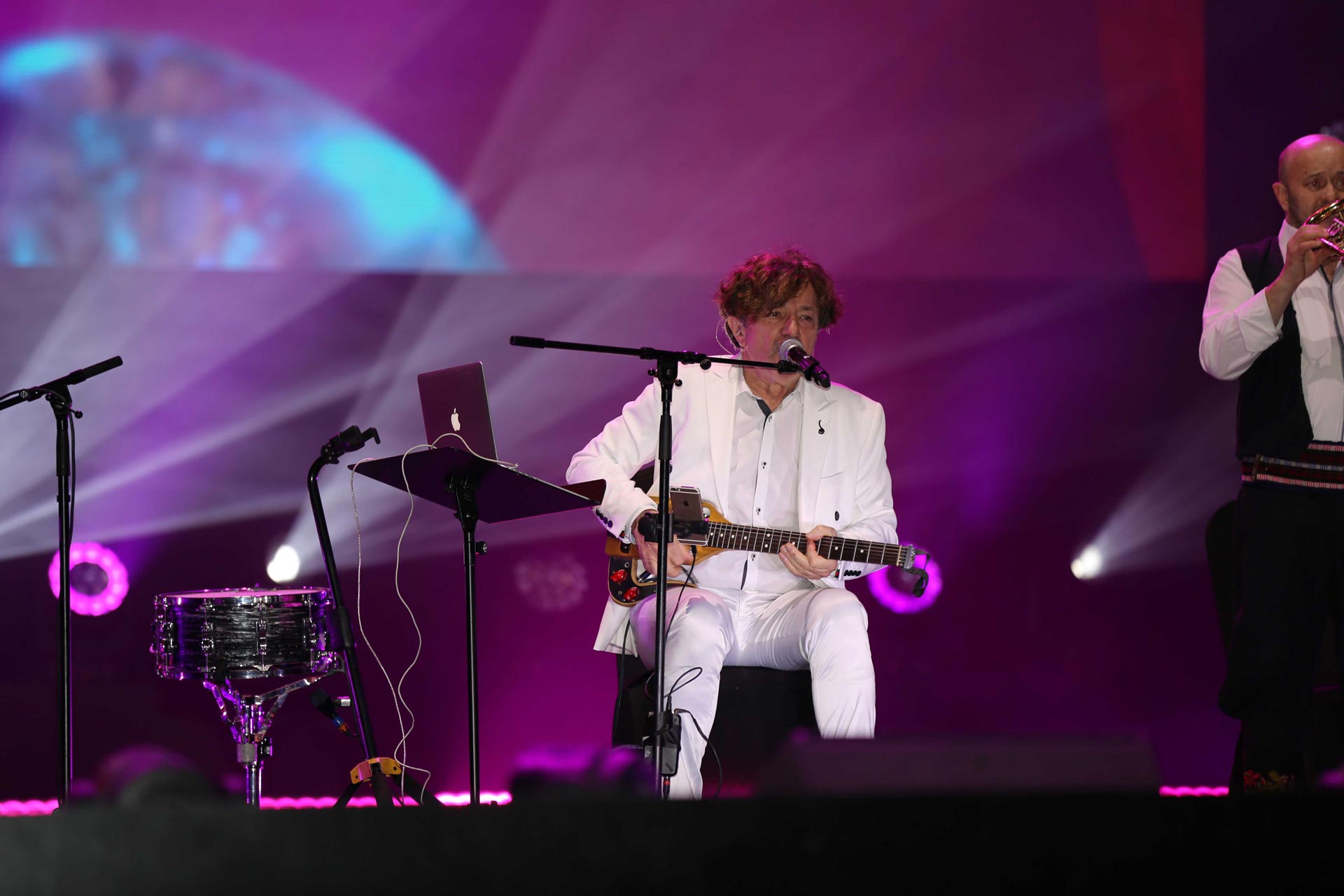 Friday, January 14, 2022. Goran Bregović, a world-famous musician and one of the biggest rock stars in the Balkans, and his widely known Orchestra for Weddings and Funerals, performed last night in front of several thousand people at the World's Fair in Dubai, celebrating the Orthodox New Year.
Bregović performed with his large orchestra as part of the appearance of Serbia at Expo 2020 Dubai at one of the largest stages at the Expo, and visitors from all continents danced and sang in the audience.
Bregović told us: "I am very proud to have performed at the Expo 2020 World Exhibition in Dubai, especially on the Orthodox New Year's Eve! Just as I thought, the party was unforgettable. "My music is cheerful, it invites people to dance, to rejoice, regardless of their religion or nation, and the audience in Dubai recognized that and responded with the most beautiful emotions."
Before the concert, Bregović had the opportunity to visit the Serbian Pavilion at the World Exhibition, and he came out with best of impressions:
"The more I went around the Serbian Pavilion, the more I became convinced that this Pavilion should travel around Serbia as well. I think we know too little about the Vinča culture, which was a true wonder of the world, and about our scientists and artists: Tesla, Milanković, Andrić… I think that whoever comes to the Serbian Pavilion will discover something new here and will become interested in our country. I think we should be grateful to the Emirates, for making it possible for the world to meet in one place during this difficult time, "Bregović pointed out.
Goran greeted the audience in Dubai traditionally dressed in white, sitting between his amp and computer with an electric guitar in his hands and his picturesque team on stage.
Many musicians would be satisfied with only a fraction of Goran Bregović's career. A contemporary composer, a traditional musician or a rock star, he did not want to choose - he took everything and invented music that is both universal and unmistakably his.
Bregović's music is recognizable at the first listening and always seems to address the whole Wolrd, regardless of race, gender, age or religion. For more than twenty years, Goran Bregović and his Wedding and Funeral Orchestra have been touring all continents of the known world on their endless voyage.
They mix Roma wind sections with drums, Bulgarian polyphonies with a male vocal choir and a string section with electronically programmed music, respecting and celebrating the diversity of origins and heritage at the cultural, religious and national levels.
With Goran Bregović's show at the World Exhibition in Dubai, Serbia presented the music of our country and the Balkans that knows no borders, genres, types and religions - music that simply unites the world.