27th October 2021
SERBIAN PROGRAMMING CLASS FOR THE BEST STUDENTS OF THE EMIRATE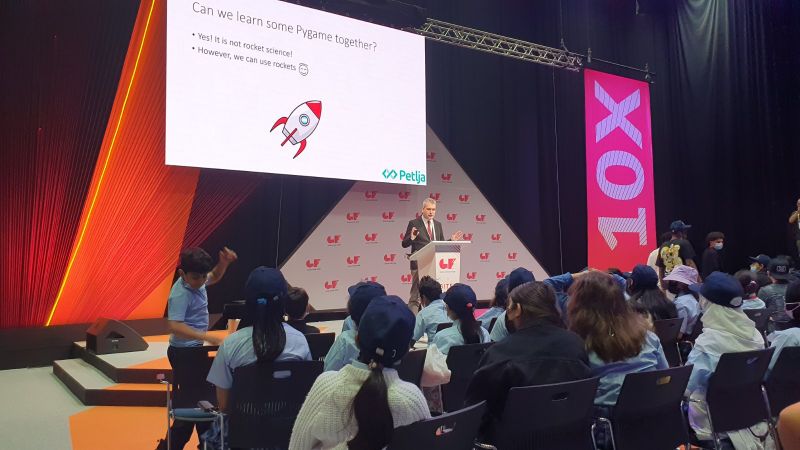 The Serbian "Petlja" Foundation gave a lecture to students from the United Arab Emirates, at the invitation of GITEX, the largest global technology event held in Dubai, which recognized our country as a leader in the development and education of IT talent from an early age.
Serbia is a country where students learn Python already in primary school.
The lecture, dedicated to the Python programming language and its Pygame library, was held by Petlja Foundation for the best 240 students aged 9 to 16, as part of the Youth X Bootcamp workshop.
Special focus was placed on the use of programming simple 2d computer games, as an excellent testing ground for the adoption of basic programming techniques in the younger population in an enticing and interesting way for children.
The lecture was given by Filip Marić, professor at the Faculty of Mathematics in Belgrade, member of the board of Petlja and author of Petlja's materials for primary and secondary schools, who stated on that occasion:
"Serbia was presented to pupils as a small European country that is developing rapidly and in where, due to the rapid expansion of the IT sector and the need for professional education, IT education has recently been innovated through the introduction of compulsory programming in primary schools."
Petlja Foundation was established with the aim of improving algorithmic literacy in Serbia.
Serbia presented itself at GITEX under the brand "Serbia creates Tech", together with 11 companies and institutions and 6 selected startups.
Five panelists from Serbia presented their views at global conferences on the topic of artificial intelligence in public administration, agriculture, blockchain, innovation ecosystem and incentives in Serbia.
Also, as part of the GITEX Future Stars event for startups, "Joberty Technologies" won the first prize in the category of best marketing technology in the competition of over 750 best startups from around the world. In addition, as many as three startups from Serbia - "Joberty Technologies", "Kredium" and "Deep Blue Sea" reached the semifinals of this competition.
Support for Serbia's participation in GITEX is provided by the Office of the Prime Minister of the Republic of Serbia, the Serbian Chamber of Commerce and industry and the Serbian Development Agency.