9th January 2022
ORTHODOX NEW YEAR WITH GORAN BREGOVIĆ AT EXPO 2020 DUBAI
One of the biggest Balkan music stars, Goran Bregović, represents Serbia at EXPO 2020 Dubai and promises unforgettable fun for all visitors.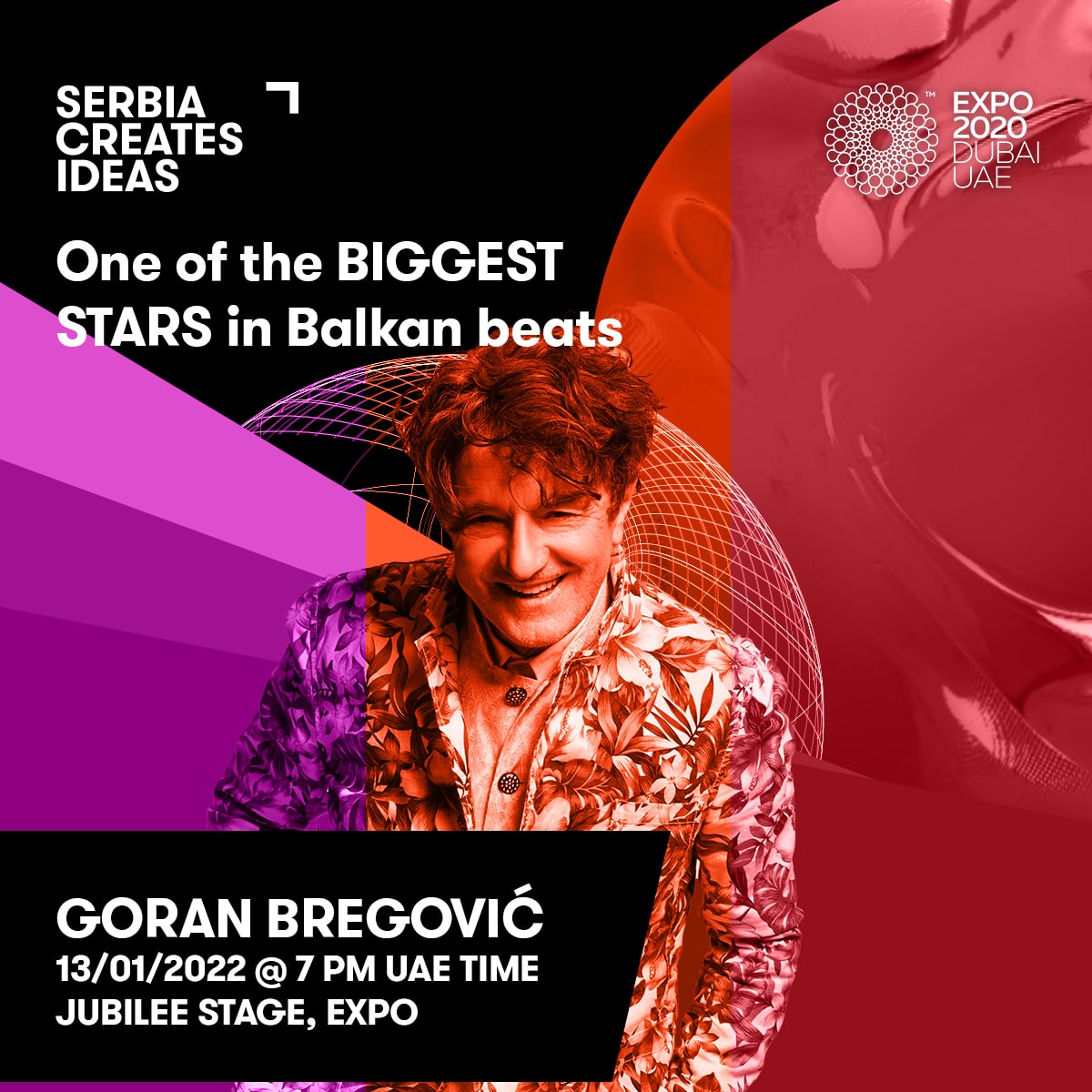 Sunday, January 9, 2022. Goran Bregović, a world-renowned musician with more than six million albums sold, one of the biggest rock stars of the former Yugoslavia and his widely acclaimed Wedding and Funeral Orchestra, will perform at EXPO 2020 Dubai on January 13 for the Orthodox New Year at one of the biggest stages within the Expo (Jubilee Stage) starting 7 p.m. local time.
Before the performance, Bregović has a message for us: "I am very proud to perform at Expo 2020 - World Exhibition in Dubai, especially for the Orthodox New Year! I invite everyone to join us and I promise it will be crazy!
I haven't written anything sad in 20 years. My music is cheerful, it invites people to dance, to rejoice, no matter what their religion or nation, I believe that the audience in Dubai will recognize it and that we will have a great time," adds Bregović.
Many musicians would be satisfied with only a fraction of Goran Bregović's career. A contemporary composer, a traditional musician or a rock star, he did not want to choose - he took everything and invented music that is both universal and unmistakably his.
A Bregović piece can be recognized on the very first hearing and seems to address the whole Earth with no distinction of race, sex, age or religion. For more than twenty years Goran Bregović and his Wedding and Funeral Orchestra have roamed all continents of the known world on a never-ending tour.
With his Orchestra he mixes Roma brass musicians with percussions, Bulgarian polyphonies with a choir of male vocalists, a string section with electronic programming, respecting, and celebrating the diversity of origins and heritage at the cultural, religious and national levels.
"Our Balkan trumpet is very specific, it has the power of an electric guitar, it has that energy that is fascinating to me, it produces madness and people from all over the world react to it very well - that's its strength," Bregović emphasized.
Bregović describes himself as an "old-fashioned guy who doesn't make videos and doesn't appear on TV, but presents his music while traveling around" on an endless global tour.
Goran will greet the audience in Dubai traditionally, dressed in white, seated between his amplifier and his computer with an electric guitar in his hand and his motley crew on stage.
With the performance of Goran Bregović at the World Exhibition in Dubai, we will have the opportunity to present the music of our country and the Balkans that knows no borders, genres, types and religions - music that unites. His ensemble is an eclectic mix of musicians from the former Yugoslavia and Bulgaria, which enables a truly diverse repertoire.
Expo 2020 Dubai, is held from October 1, 2021 to March 31, 2022, and the theme of the appearance of the Republic of Serbia is "Serbia creates ideas - Inspired by the past, shaping the future."
Through an attractive and original program of presenting Serbia, which in six months includes more than 150 different events, both at the Pavilion and at some of the Expo locations - our top artists, performers, musicians, creatives have the opportunity to present themselves to the world and, as the best creative ambassadors, to represent Serbia.
So far, the Serbian Pavilion has been visited by over 500,000 visitors, and by the end of the World Exhibition, we believe that there will be over 1 million of them.