17th October 2021
LENA KOVAČEVIĆ ENCHANTED THE AUDIENCE IN DUBAI
The magical voice and music of the jazz singer won the audience at the World Exhibition Expo 2020 Dubai, during two concerts she held in the garden of the Pavilion of the Republic of Serbia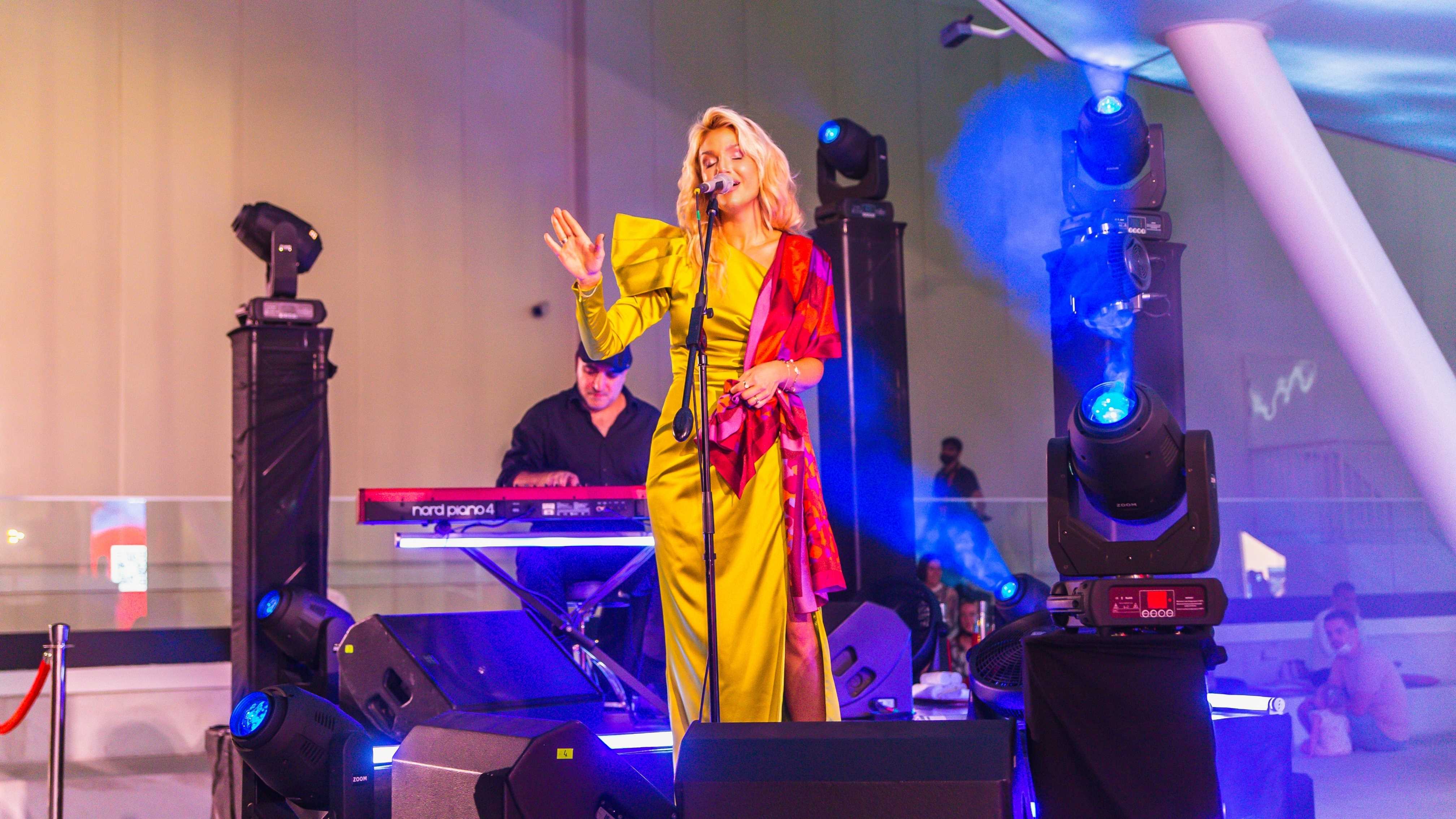 Sunday, Oct. 17, 2021 - One of our biggest music stars, a vocal artist, composer and a creative ambassador of the national platform Serbia Creates, Lena Kovačević, held two exclusive concerts at the World Expo 2020 Dubai in the garden of the Pavilion of the Republic of Serbia, entitled "East and West Connect."
The artist performed together with pianist Srđan Tanasković, and the central theme of the performance was combining the specific characteristics of music from the East, the Balkans, tradition and spirituality of Serbia and the region Lena comes from, with elements of modern music and influences she brings from her studies in Amsterdam where she graduated from the Conservatory of Music.
"It is a great honor for me to represent our country at the largest world event, such as the World Exhibition in Dubai, and I am grateful to the team of the national platform Serbia creates for the invitation. It is a fascinating feeling to perform in front of people who come from all over the world, and who equally enjoy our music, and I am especially glad that a large number of our people from Serbia attended the concerts, " said Lena Kovačević after the concert.
"The Serbian pavilion is exceptionally original and its appearance attracts a lot of attention at the Expo, and I invite you all to visit it and feel what it feels like when the whole world gathers in one place," Lena added.
Lena's singles carry a fusion of different styles that she and her musicians carefully nurture, from jazz and pop music to the traditional sounds and ornaments of the Balkans.
The World Exhibition Expo 2020 Dubai will run from October 1, 2021 to March 31, 2022, and the theme of the appearance of the Republic of Serbia is: Serbia creates ideas - Inspired by the past, shaping the future.
Through an attractive and original program of Serbia's appearance, with more than 150 different events to be staged over a period of six months, both at the Pavilion and at some of the Expo venues - our top artists, performers, musicians, creatives will have the opportunity to present themselves to the world and as the best creative ambassadors, to represent Serbia as well.